Are you interested in hiring a windows installer to change out your old, drafty windows for energy-efficient windows? Do you need professional door installation as you get rid of a broken or unsightly door at your home? For these and other window and door replacement services in Gaithersburg, turn to the experts at Thermal Specialties and Installation Co. We're a licensed and insured window and door company, holding Maryland license #20351 and Virginia license #2705-046526. We put customer service first, and our A+ from the Better Business Bureau stands as a testament to our commitment to customer satisfaction. We also have two Angie's List Super Service Awards, from 2014 and 2015. In short, we're your best choice for replacement windows and doors in the region. Call today to learn more! 
Energy-Efficient Windows
Patio & Entry Doors
Licensed & Insured
In Business Since 1984
Comprehensive Warranties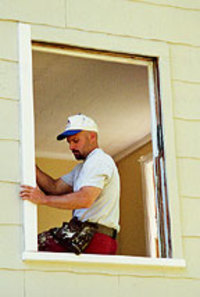 Thermal Specialties and Installation Co. is based in Olney, MD. Our service area includes residences in Gaithersburg, Silver Spring, Germantown, Rockville, North Bethesda, Bethesda, Kensington, Potomac, Wheaton, and Montgomery County. We're pleased to work with homeowners on replacing drafty windows and sticking sliding or entry doors with beautiful new models that are designed to last. You can expect the new windows and doors we install to look and feel just right from the day you begin using them. We know how important your windows and doors are in terms of appearance, safety, and comfort in your home.
We have more than 30 years of experience as a door and windows installer. We'll put that experience in window and door installation to work for you, finishing the job swiftly and accurately. For your protection and peace of mind, we stand behind our work with a 10-year labor warranty. We also offer a lifetime guarantee on new windows. We've become the region's trusted window and door company by proving, over and over, that we care about our customers.
Ready to get started? Contact Thermal Specialties and Installation Co. today to speak with a door or window installer from our team about your needs! In addition to talking you through the replacement windows and doors you have to choose from, we'll be happy to give you a free cost estimate for our services. From single window or door replacement jobs to whole-house change-outs, we'll give you our all. Our workmanship is top notch and our rates are reasonable. We can't wait to hear from you.
Thermal Specialties and Installation Co. only replaces entire window and door units. We're not available to replace individual components such as locks or glass panes. We're sorry for any inconvenience.